This new fashion of beautiful bookcases has taken over and I love it. Sadly I have way too many books for my bookcase.
I decided since I just beautified the desk time to move onto the bookcase. I took a pic and started with the books and went through them. I was raised in a book family. Books are the stories of life. My parents have been gifting my boys books for years and we are super blessed and love them. Now we just need a good place for them.
Chris has always hated that I had mis NON books on our bookcase. Binders are not books.
I searched pintrest for pin worthy bookcase images however no matter how many I looked at, ideas were great, but I need my bookcases to hold books!!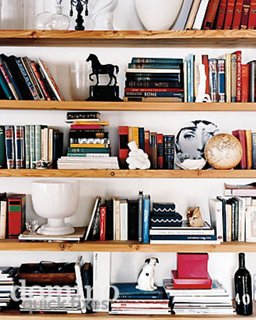 Here is my book case reveal!!! Nothing fancy. But I love that it holds all my books.
I have two small shelf's in the boys room for books and I have many other ideas floating through my head.
I'm not the style one of the family. Doesn't mean I don't try. For now I don't have any big plans for the rest of the room. Other then keeping it a beautiful peaceful organized place to keep the work successful and hopefully a new computer in the near future.